Things to do in Casablanca
Check our guide on things to do in Casablanca and take out the most of your visit
Casablanca is plenty of things to do and all of them are easily reached from the Farah Casablanca Hotel. Visit the splendid Hassan II mosque, or take a tour to Habbous and Royal Palace sides, Take a walk by the Marina Mall and besides old medina Riks Café. Visit Casablanca Cathedrale St George. Morocco Mall the largest Mall in North Africa by the ocean Sides.
Farah Casablanca Hotel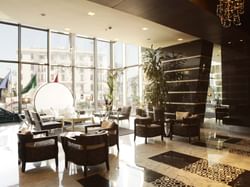 Farah Casablanca Hotel is one of the most prestigious and historical hotels of Casablanca City built in 1985 with more than 35 years of existence. It is located between the residential and industrial district of Ain Sebaa, and the old city center of Casablanca.