Contact and Location
Reach our hotel in Casablanca (Morocco) city centre
How to get to the hotel
Close to business district, the farah Casablanca Hotel enjoys a convenient location in the heart of the city "Avenue des F.A.R" and is only at walking distance from Casablanca major train station "Casa-port" transportation from & to thE airport can be arranged at the concierge desk.
160, Avenue des Forces Armées Royales
20 000, Casablanca.
Farah Casablanca Hotel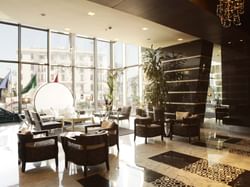 Farah Casablanca Hotel is one of the most prestigious and historical hotels of Casablanca City built in 1985 with more than 35 years of existence. It is located between the residential and industrial district of Ain Sebaa, and the old city center of Casablanca.